This five-year project (2017-2022) on mountain cultures and travel histories in the Eastern Himalaya aims to explore religious expression in written and oral depictions of Himalayan travel. In this project, we are exploring how mountain spaces are constructed by inflections of power and transnational forces, how religious practices interact with the environment, and how stories embedded in local landscapes shape a traveler's experience. We hope that our work may contribute to histories of Himalayan travel by local and international communities.
Our primary site is Mt Khangchendzonga, straddling India and Nepal, which was recognized by UNESCO as a natural and cultural World Heritage Site in 2016. This mountain has been the subject of guidebook writing in Tibetan since the fourteenth century, and local and international communities continue to travel around and to the region.
Our main project researchers are located at University of Toronto in Canada, and in India at the Namgyal Institute of Tibetology in Gangtok, East Sikkim, and the Khangchendzonga Conservation Committee (KCC) in Yuksam, West Sikkim.
This project is funded by a grant from the Canadian Social Sciences and Humanities Research Council. See a list of Project Events.
Phase 2 (2020-2022) Project Activities: Tibetan and Lepcha Stories about Sacred Sites
We began this project with an international workshop on "Hidden Lands in Himalayan Myth and History: Transformations of Beyul (sbas yul) through Time" in Toronto in December 2017, featuring thirteen paper presentations. An edited volume of these papers was released in 2020 from Brill. The book addresses hidden lands across the Himalaya as seen in history, literature, folklore, and contemporary practice, and it presents sbas yul as complex, multi-faceted encounters with various themes and issues that are themselves threaded across centuries and that are taking on new dimensions of significance in today's globalized world.
Since then, Frances Garrett, Khenpo Kunga Sherab, and Dakpa Gyatso have been studying Tibetan language guidebooks to Sikkim as a hidden land. We are completing an English-language translation of the Preface to the Bras mo ljongs kyi gnas yig, which is an anthology published in 2008 that contains writings by treasure revealers on the hidden land of Sikkim. This edited volume is the Mka' spyod 'bras mo ljongs kyi gnas yig phyogs bsdebs bzhugs ("Collected Guides of the Sacred Hidden Land of Sikkim"), published by Namgyal Institute of Tibetology and Amnye Machen Institute, and compiled and edited by Tashi Tsering.
We are also working on an English translation of an important text found within that anthology, the Sbas yul 'bras mo ljongs kyi gnas yig phan yon dang bcas pa ngo mtshar gter mdzod ces bya ba bzhugs so ("Guidebook to the Hidden Land of Sikkim and its Benefits, a Marvelous Treasure"), authored by Lha btsun 'gyur med 'jigs bral bstan 'dzin dpa' bo. This key text will form the basis of a new multimedia Classical Tibetan language course, developed for students of Classical Tibetan inside and outside Sikkim, to be released online as a free, open-access course on the language-learning platform Nettle in collaboration with linguist Edward Garrett.
To provide English-language access to a broader Tibetan scholarly perspective on issues of sacred space and the forms of literature that discuss sacred space, we are working with a researcher at Southwestern Nationalities University in the PRC, Shar ba thogs med, to complete a translation of his article, Gnas bshad kyi khyad chos gleng ba ("A discussion of the distinctive features of the 'sacred place explanation' [genre of writing]"), published in the journal, Krung go'i Bod kyi Shes rig (4th issue in 1996, pp. 87-113).
Looking forward, in the coming years Anna Balikci-Denjongpa will be working in Sikkim with monks from Pemayangtse monastery on resources that document sacred sites in the Khangchendzonga National Park and the environs.
In 2020, we also began a collaboration with the outdoor educator Bob Henderson, who taught for decades at McMaster University, to support a project commemorating the 1971 ecophilosophic anti-expedition to Tseringma (7034 m) in Nepal, led by three Norwegian mountaineers. Stay tuned as this project develops, and see more at the Anti-Expedition website.
In 2021, we began working with Dr Jenny Bentley and filmmaker Minket Lepcha to focus on Lepcha storytelling and language teaching. Stay tuned as this work develops.

Project Team, Phase 2
Anna Balikci Denjongpa has a Ph.D. in Anthropology from the School of Oriental and African Studies. She is a Canadian citizen now working in Sikkim as NIT Research Coordinator and editor of the Bulletin of Tibetology. An anthropologist whose research interests centre on Sikkim's indigenous cultures, history and the medium of ethnographic film, her doctoral research was funded by SSHRC (1994-1998) and later published as Lamas, Shamans and Ancestors: Village Religion in Sikkim (Brill 2008). Since 2003 she has directed the Sikkim Video Archive, a collaborative visual anthropology project producing a documented audio-visual record of indigenous Sikkimese cultures with a focus on ritual. With her local research team she has completed a series of eight ethnographic films on Sikkim's indigenous Lepcha and Bhutia communities, which have been screened at several film festivals worldwide. She is currently working on a book on the history of Sikkim.
Jenny Bentley is an associated researcher at the Department of Social Anthropology and Cultural Studies ISEK (Zürich University) with 15 years of fieldwork experience in the South Asian Himalayas. Currently, she is engaged as ethnographic research head in several projects at the multi-disciplinary design company Echostream in Sikkim. She has co-authored policy-orientated publications on anti-corruption youth initiatives in Nepal for the U4 Anti-Corruption Resource Centre (Bergen). Her research explores belonging and ethnicity, Indigenous knowledge, knowledge transfers and transformations, ritual practice and sacred landscape, youth engagement, and applied anthropology. Her PhD is titled Protectors of the Land and Water. Rituals, Vulnerability, and Indigenous Belonging among the Himalayan Lepcha.
Edward Garrett is a linguist and software developer living in London, England. After receiving a doctorate in linguistics (UCLA, 2001), Edward took a postdoctoral position at the University of Virginia, where he developed software for the Tibetan & Himalayan Library. From 2003-2008, Edward worked as an Assistant Professor at Eastern Michigan University, teaching courses in Language Technology. From 2008-2011, he was Software Developer for the Endangered Languages Archive at the School of Oriental and African Studies in London, where he coded its online archive. From 2012-2015, he was a researcher and software developer on the project Tibetan in Digital Communication. Edward is the proprietor of Pinedrop, a software company that develops web solutions and research tools for the arts & humanities.
Frances Garrett
Dakpa Gyatso Acharya is a native Tibetan translator and researcher. He studied at the Central University of Tibetan Studies, Sarnath, majoring Buddhist philosophy and Tibetan language, where he earned the Shastri [BA] and Acharya degrees [MA]. After completion of the Acharya degree, he served as the personal secretary to Gyetrul Jigme Rinpoche, son of Terton Namkha Drimed Rabjam Rinpoche. During his work, he also served as the head of the Ripa Private Office and translator of Terton Namkha Rinpoche. He travelled extensively with Gyetrul Jigme Rinpoche in this capacity. Dakpa has translated and edited numerous articles and books including the "Activities of Vidyadhara Chogyam Trungpa Rinpoche in the West," the Historical and Religious Life of the King Gesar of Ling [Tibetan], the entire cycle of Tagsham Samten Lingpa's treasure-teachings (termas) for International Nyingma Buddhist Encyclopedia, the Ripa Buddhist Monastic Code, Odisha Buddhist Connection and so on. Dakpa has been working on his own book-in-progress: the Encyclopedic Dictionary of Tibetan Buddhism in Tibetan-Sanskrit-English and its commentary. In 2014, he came to Nova Scotia, Halifax, where he lived for three years working with Nalanda Translation Committee. In April 2017, he moved to Toronto along with his wife and daughter. Currently, he lives in Toronto working with Prof. Frances Garrett; he also works for Nalanda Translation Committee, and the Berzin Archive e.V. as a translator and editor.
Khenpo Kunga Sherab joined the Department for the Study of Religion at the University of Toronto as a PhD student in 2016. His research is in the area of contemporary Tibetan Buddhist scholars' engagement with science with a particular interest in Buddhist and contemporary scientific theories of consciousness, karma and reincarnation. He received an MA, also from the DSR, in 2014. Khenpo has worked at the DSR since 2009 both as a course instructor of Tibetan language and as a Research Consultant, assisting with student and faculty research and teaching in Tibetan Studies. Before coming to the University of Toronto, Khenpo received a traditional Tibetan Buddhist monastic education and earned the advanced title of Khenpo (abbot) in 2005 from the Dzongsar Institute for Advanced Studies of Buddhist Philosophy and Research in India. He then taught for many years at Dzongsar Institute, India and Zurmang Buddhist College in Sikkim, India. He is the author of several works on Buddhist philosophy in Tibetan.
Minket Lepcha has been engaged with documenting stories and folklore based on ethnic communities of Darjeeling and Sikkim for several years. She directed a film on River Teesta through SOPPECOM, and she was also a teacher for several years. Inspired by Lepcha folklore and believing that the ecological widsom are hidden in these stories, she created a workshop based on the folklore of Himalayan Communities, especially Lepcha folklore. She uses this workshop tool to inspire, influence and educate young minds to connect with river and mountains and provide an experiential learning towards their surrounding rivers and mountains. She has been travelling for the past 2 years narrating stories of river, seeds, birds, mystical creatures to school and college students across India, Nepal and Bangladesh. She is an awardee of Young Green Filmmaker 2016 in Woodpecker International Film Festival for her film 'Voices of Teesta'. This film also earned 10th position amongst 110 films in World Water Forum in Brazil 2018.
Amber Moore is a PhD student in the field of Buddhist Studies with an emphasis on the intersection of narrative literature, ritual and visionary landscape. She holds a BA in Buddhist and Philosophy and Himalayan languages from Kathmandu University and an MA in Religion and Culture. She is currently interested in engaging an intercultural approach in her research on epistemic culture and on the corpus of Newar, Tibetan, Nepali and Sanskrit literature related to Vajrayoginī in Nepal and Tibet and is inspired to discover more compelling questions than definitive answers in this area. She lived for several years in Tibet and Nepal with her family.
---
Phase 1 of the Project (2017-2019)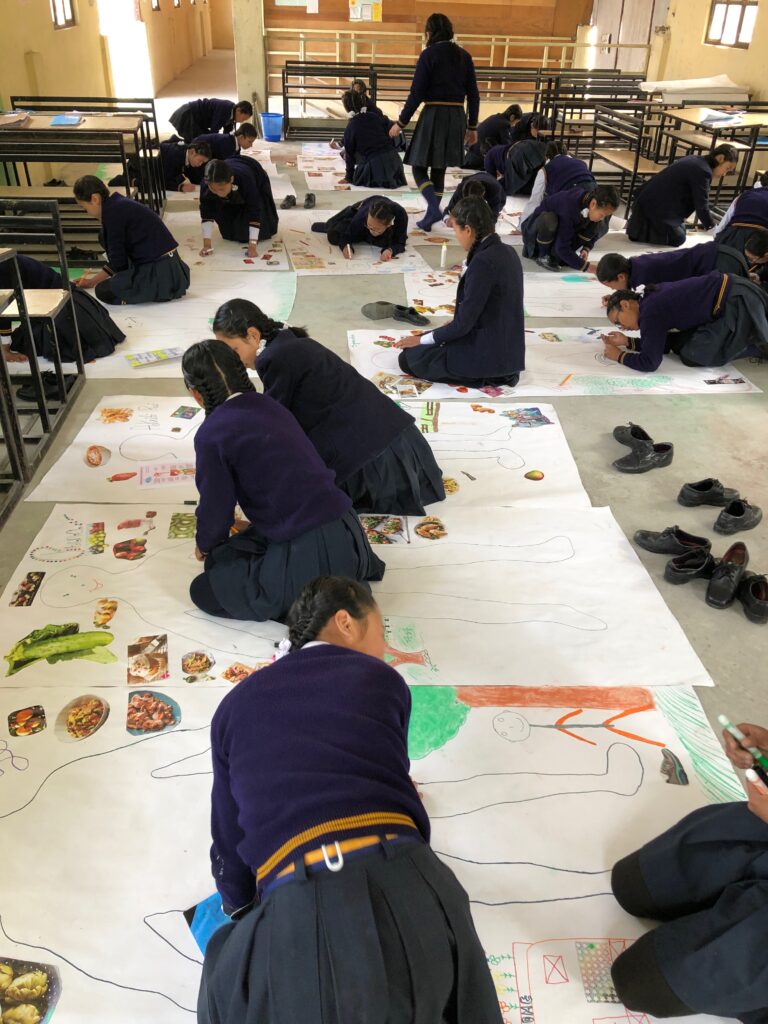 This project began with student and citizen engagement, drawing on models of public history and community-based research. From 2016-2018, Garrett and Price taught an immersive field course in Sikkim that focused on Buddhist pilgrimage travel, the influence of rivers on Himalayan cultures, and the interplay between religious institutions and environmental sustainability movements in the region.
In the summer of 2017, undergraduate Study of Religion student Damien Boltauzer worked with the KCC in Yuksam on digitizing their archival materials. Over the summer of 2018, Damien investigated a 29km pilgrimage route (gnas skor) around the peak of Drilburi in the Lahaul region of northern Himachal Pradesh (near the border with Ladakh), near Keylong and the ancient monastery of Gandhola/Guru Ghantal. This pilgrimage occurs on the full moon of June. Damien went on to study in Nepal for a semester.
In 2017-18, students in Matt Price's undergraduate course at University of Toronto, Hacking History, continued to work with the KCC leadership and staff and their archival materials. Damien cataloged a growing database of images, recordings, and archival documents. In May 2018, Garrett, Price, and six undergraduate students from University of Toronto traveled to West Sikkim to meet with KCC leadership and to lead a web development skills workshop for KCC staff and local community members.
The partnership between U of T and the KCC led in 2018 to a project called Code at the Edge, which developed a web development curriculum appropriate to the mountain region. This was piloted at the Kasturba Gandhi Balika Vidyalay School for Girls in Labang, West Sikkim, in a two-week workshop on coding and sustainability in February 2019. An article documenting this aspect of the project was published in 2019, as At the Edge of the Internet: Teaching Coding and Sustainability to Himalayan Girls in the Canadian Journal of Learning and Technology 45(3).
Project Team, Phase 1
Damien Boltauzer is an undergraduate in Anthropology at the Department for the Study of Religion at the University of Toronto. He has a deep interest in religious/sacred spaces and geographies in the Himalayan Buddhist world. He has conducted research with the KCC in Sikkim and also in Ladakh, and he spent last fall studying in Kathmandu.
Faraz Khoshbakhtian is an undergraduate student of Computer Science and Philosophy at the University of Toronto. He was a part of Himalayan Borderlands team in 2018. He is keen to explore strategies of improving web literacy around the world.
Molly Mignault is a graduate student at the University of Toronto in the Department for the Study of Religion where she is doing a collaborative specialization with the School of the Environment. Her research interests are focused on the relationship between environmental preservation and natural sacred sites within South Asia. She received an Honours Bachelor of Arts from the University of Toronto in 2017 where she studied religious studies, environmental studies and geography.
Matt Price, a historian of science and technology, has been interested in the social impacts of technologies his whole adult life. His interest in digital technology emerged partly out of his research (especially on early cybernetics, in the 1950s and 1960s) and partly from his practical engagement teaching technical skills to kids and people in social housing. His hope in much of his teaching is that students come away, first, with a sense of how digital technologies can both enhance and diminish what some philosophers have called "human flourishing" and others "emancipation"; and second, equipped with the tools they need to help nudge our society along in the right direction.
Laila Stradz was a graduate student at the University of Toronto in the Adult Education and Community Development program with a collaborative specialization in Environmental Studies. She received an Honours Bachelor of Science in Psychology and have a keen interest in researching the psychological motivators for pro-environmental behaviours. It was through experiences such as international exchanges to Germany and Australia and working with the City of Toronto in municipal politics that she realized the importance of experiential and community-engaged learning.
Dawn Walker is a PhD student at the Faculty of Information, University of Toronto. Her research focuses on how values are negotiated in the design of emerging alternative and "decentralized" web and internet infrastructures. She also imagines possibilities for grassroots and decentralized (environmental) data with the Environmental Data and Governance Initiative (EDGI) and Data Together.